Archive for February 2015
Pumps with Channel Impeller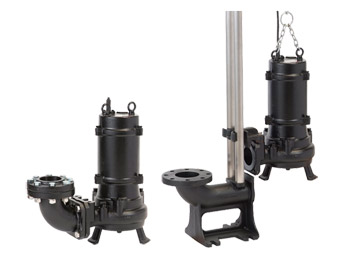 | | |
| --- | --- |
| Discharge Bore(mm) | 50 – 150 |
| Motor Output(kW) | 1.5 – 7.5 |
The NH series is a cast iron made, submersible wastewater pump utilizing 2-pole motor. This impeller is a shrouded two-channel impeller. Each channel is designed to have a larger area and it enables the pump to be suitable for pumping wastewater containing a certain size of solids. The pumps are available in six motor sizes ranging from 1.5 to 7.5kW and available in either High-Head or High-Volume Type.
The Grundfos HS horizontal split case pump is a single-stage, non-self-priming, between bearing, centrifugal volute pump. The axially split design allows easy removal of the top casing and access to the pump components (bearings, wear rings, impeller, and shaft seal) without disturbing the motor or pipework.
The independent bearing housing allows for ease of maintenance without removing the top casing. The double volute design reduces the radial load on the shaft, extending component life, minimising vibration and providing quiet operation.
The HS pump also offers high pump efficiencies throughout the range.  High energy efficiency along with long pump life and easy maintenance add up to low life-cycle costs.
The HS pump is available in three configurations – pump with motor and baseframe, pump with baseframe, and bare shaft pump only.
The HS pump is ideal for custom applications and is available in a wide range of variants. The high efficiency and low life cycle costs make the HS ideal for any commercial building, water utility or industrial project.
Applications Pump

Grundfos HS horizontal split case pumps are typically used in these applications:
Air-conditioning/heating systems
Public water supply
District cooling/heating plants
Cooling systems
Public waterworks
Process cooling
Irrigation.
Features and benefits Pump
Easy to service: split case design
Double suction minimises axial load,which extends the life of the wear rings, shaft seals and bearings
Double volute reduces radial forces and minimises noise and vibration
Independent bearing housing design allows access to the pump components without removing the top half of the casing
High energy efficiency
Low life-cycle costs
Many product variants available.
Submersible cast iron submersible sewage pump
Model DLU
The model DLU submersible pumps are constructed of rugged cast iron suitable for sewage and wastewater applications. Designed with semi-open impellers that have a large wear area and open passageways, the model DLU offers the best handling for stringy and/or abrasive materials.
---
Specifications
Discharge Size: 2″, 3″, 4″
Range of HP: 1 to 5 HP
Capacity: 13 to 430 GPM
Head: 9 to 66 Ft.
Max. liquid temperature: 104°F (40°C)
Max. solid diameter: 3″
Available in single or three phase models
---
Key Features
Air-filled Class F insulated heavy duty motor – operates cooler with higher efficiencies
Built-in motor protection autocut – protects against overheat, out of phase, single phasing and no load
60,000 hour bearings – long dependable operation, lower maintenance costs
Large solids handling capabilities – prevents clogging
Semi-open impellers – best design for handling stringy and abrasive materials providing durability and longer life
Double mechanical seals – operate in an oil bath providing longer service life and lower maintenance costs
Stainless steel shaft – high tensile strength and corrosion resistance
---
Applications
Sewage
Water
Wastewater
Drainage (household, industrial)
Irrigation
---

ALL YOU NEED TO KNOW ABOUT PUMPS AND ENERGY THIS IS FOR Saving Energy – Grundfos Pumps

Pumps are involved in nearly every aspect of modern living. They are used to move fluids such as liquids, slurries or gasses.
Saving Energy – Grundfos Pumps.
In businesses, buildings, households and industries, pumps exist – in some form or another. They are key components in maintaining comfort levels in buildings. for Saving Energy – Grundfos Pumps They deliver and distribute clean drinking water from water treatment plants throughout cities, while at the same time removing wastewater. And, they are highly present within a wide range of industries to Saving Energy – Grundfos Pumps. The world depends on them, but many pumps are also serious energy wasters, leaving behind a significant carbon footprint for Saving Energy – Grundfos Pumps. This is because today's pumps account for no less than10% of the world's electricity consumption and because the majority of electricity is still produced using fossil fuels [1].
Pumps and the world's electricity consumption procent_billede
Today pumps account for no less than 10% of the world's electricity consumption.
Two third of all pumps use up to 60% too much energy [2].
If every business switched to a high efficiency pump system there could be global savings of 4% of the total electricity consumption- comparable with the residential electricity consumption of 1 billion people.
Sources to Saving Energy – Grundfos Pumps

[1] IEA Report 2009, IEA Statistics, CO2 Emissions from fuel combustion
[2] Almeida, Anibal T. et al; EuP Lot 11 Motors Final Report, University of Coimbra, December 2007, p: 68
The CR range offers pump of unmatched reliability that can be intelligently tailored to suit an infinite variety of applications Grundfos pump Pressure Boosting. Since Grundfos invented this type of multistage in-line pump in 1972, many imitations have appeared on the market. However, four decades on, this latest generation of CR pump, with their traditional efficiency, reliable performance and adaptability, remain the wisest choice.
Grundfos Pressure Boosting The basic CR pump range is available in four different materials: cast iron, two grades of corrosion-resistant stainless steel, and all-titanium. There are 13 flow sizes, capable of producing up to 50 bar of pressure, and with a variety of shaft seals and rubber materials. The modular building system means you can choose a version to meet almost any pump requirement, handle difficult liquids and the most demanding operating conditions. Grundfos Pressure Boosting
Features and benefits Grundfos Pressure Boosting

Quality and reliability built on over four decades of continuous Grundfos pump testing and refinement
Corrosion-resistant pump modules that can be combined in multiple ways to meet almost every conceivable requirement.
Streamlined design to save space
Grundfos MGE motor with integrated frequency converter to allow multi-speed operation and deliver optimal pump performance
Special pump solutions to cope with extraordinarily high pressure, temperature extremes and liquids that are very aggressive, abrasive, hazardous, hardening or flammable
Grundfos Pressure Boosting pump
Pentingnya Pompa dalam Kehidupan Kita.
Pompa merupakan benda mekanik yang perlu dilakukan perawatan secara berkala, kegiatan ini berguna agar pompa dapat selalu dipakai dalam kondisi yang optimal sehingga menghindari terjadinya resiko kerusakkan pada pompa.
Banyak sekali pengguna pompa yang melupakan kegiatan yang sederhana ini dan baru merasakan dampaknya apabila pompa sudah mengalami masalah sehingga menggangu kegiatan sehari-hari dirumah maupun terganggunya kegiatan produksi di sebuah perusahaan.
Di beberapa Industri, pompa merupakan sarana yang cukup vital, karena bila mengalami gangguan akan berdampak besar pada kegiatan produksinya dan juga menimbulkan resiko kerugian yang tidak sedikit, banyak orang beranggapan kerugian yang terjadi hanya pada biaya perbaikan atau penggantian spare part pompa bilamana terjadi, namun melupakan kerugian atas hilangnya kegiatan produksi barang atau disebut " Opportunity Loss" contohnya : bila satu hari dalam proses produksi diperlukan air dengan jumlah 1000m3 untuk memproduksi 10000 barang, sehingga bilamana terjadi kerusakkan pompa yang berakibat tidak dapat memproduksi barang sebanyak 10000 barang maka itu yang kita sebut opportunity loss disamping kerugian atas biaya perbaikan tadi.
Oleh Karena Pentingnya kita menjaga kondisi pompa maka diperlukan kegiatan perawatan pompa
Design
Highly efficient, ready for connection water-supply unit (non self-priming) with 2 to 6 vertically arranged glanded stainless steel high-pressure multistage centrifugal pumps from the Helix V series switched in parallel, including Comfort Controller CC (available with and without frequency converter)
Application
Fully automatic water supply and pressure boosting in residential, commercial and public buildings, hotels, hospitals, department stores and for industrial systems.
Pumping of potable water, process water, cooling water, fire water (apart from fire-extinguishing systems in accordance with DIN 14462) or other water mixtures that do not attack the materials used chemically or mechanically and do not contain abrasive or long-fibre constituents
Special features/product advantages
Heavy-duty system with Helix V series stainless steel high-pressure multistage centrifugal pumps for all requirements contained in DIN 1988 (EN 806)
High-efficiency pump hydraulics in conjunction with IE2 standard motors
Hydraulics of entire system are pressure-loss optimised.
2- 6 vertically arranged Helix V series high-pressure multistage centrifugal pumps switched in parallel
Easy-to-use controller CC, with expanded functions, memory-programmable microcomputer control and graphics-ready touchscreen, menu-prompted input of operating parameters, available with or without frequency converter for stepless control of base-load pump
Technical data
Mains connection 3~230 V/400 V ± 10%, 50 Hz
Max. fluid temperature 50 °C (70 °C optional)
Operating pressure 16 bar (25 bar optional)
Inlet pressure 10 bar
Nominal connection diameters on discharge side R 1½ ‐ DN 200
Nominal connection diameter on the intake side R 1½" – DN 200
Rated speed 2850 rpm
Protection class IP 54 (CC control device)
Fuse protection on mains side AC 3 according to motor power and EVU regulations
Approved fluids (other fluids on request):

Potable water and secondary hot water
Cooling water
Fire water

Note on fluids: Approved fluids are generally water mixtures which do not chemically or mechanically attack the materials used and do not contain either abrasive or fibrous matter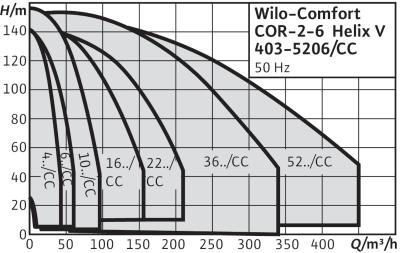 The Centrifugal Pump
In 1689 the physicist Denis Papin invented the centrifugal pump and today this kind of pump is the most used around the world. The centrifugal pump is built on a simple principle : liquid is led to the impeller hub and by means of the centrifugal force it is flung towards the periphery of the impellers.
The construction is fairly inexpensive, robust and simple and its high speed makes it possible to connect the pump directly to an asynchronous motor. The centrifugal pump provides a steady liquid flow, and it can easily be throttled without causing any damage to the pump.
If a pressure difference occurs in the system while the centrifugal pump is not running, liquid can still pass through it due to its open design.
The difference demands on the centrifugal pump's performance, especially with regard to head, flow, and installation, together with the demands for economical operation, are only a few of the reasons why so many types of pump exist.
Overview for Grundfos pumps – Dosing pumps
Grundfos DME Digital Dosing pumps combine perfect precision with user-friendliness, covering large dosing quantities in the range from 60 l/h to 940 l/h with few variants.
Digital Dosing Pumps

The use of stepper motor/EC drives optimizes control of the stroke speed and makes it extremely accurate. The duration of each pressure stroke varies according to the flow setting. The suction stroke time always remains constant but can be lengthened using the anti-cavitation function and thus adapted to the relevant needs. This way suction always takes place with the full stroke volume. This results in continuous dosing and lower pulsation in the dosing system – important factors in ensuring smooth pumping of outgassing media and in installations requiring longer suction lines.
The DME pumps range has all the benefits of the highly acclaimed smaller Digital Dosing range, making accurate dosing easier than ever.
Precise Pumps and easy setting Pumps

The operator can easily install and set the pumps to discharge exactly the quantity of dosing liquid required in the application. In the display, the setting of the pumps is read out directly in ml/h or l/h, pulse or batch. The operation mode is easily identified by means of icons.
Pumps Turndown ratio 1:800
With a turndown ratio ten times better than that of traditional equipment, the DME Digital Dosing pumps offer maximum flexibility and accuracy.
Turndown of the suction stroke to 75 %, 50 % or 25 % of the maximum speed ensures optimal priming pumps and displacement of even the most difficult liquids.
Unique technology Pumps

A unique drive technology and microprocessor control make sure that liquids are dosed precisely and with low pulsation, even when the pumps is operating with high viscosity or degassing liquids. Instead of the conventional stroke length adjustment, the capacity of the DME is regulated by automatic adjustment of the motor speed during the discharge stroke, and by fixed suction stroke speed. This guarantees optimal and uniform mixing.
Fieldbus Pumps communication
Available with Profibus interface to supply performance data and status information for quality control, preventive maintenance and future reference.
Pumps Overload protection
Built-in overload protection monitors the counter-pressure of the pumps and protects it against too high pressure loads.
Switch-mode pumps power supply
The switch-mode power supply makes sure that Grundfos DME Digital Dosing pumps can be used worldwide within the 100-240 VAC – 50/60 Hz range.
Several material variant Pumps
The dosing heads of DME pumps are available in stainless steel, PVDF, and environmentally friendly, cost-efficient polypropylene.
Pumps Processes:
Dosing pumps of biocides and chemicals, belt lubricant for conveyor equipment diverse range of acids, lyes, flocculation and coagulation agents, cationic and anionic polymers with very different viscosities, precipitating agents and disinfectants, CIP applications
Applications Pumps

Pulp and paper industry
Textile industry
Food and beverage industry
Industrial process water and waste water treatment
Drinking water treatment
Features and Benfits Pumps

Digital Dosing Pumps
Ratio 1:800
High precision – unique technology
Dosing of high viscosity media
Robustness and reliability