Archive for October 2013
These pumps feature Ebaras' unique one piece volute casing.
All the hydraulic and wetted components are manufactured in 316L stainless steel, and fitted standard with SiC/SiC/Viton mechanical seal.
Standard IEC motors used, allowing for single phase, special enclosure, or specific brand motors to be fitted.
Ebara -3LS4 Stub Shaft Pumps, 4 Pole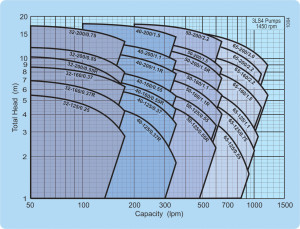 Specifications:
| | |
| --- | --- |
| Motor Output: | 0.25 to 3.0 kW (3ph) |
| Outlet Size: | 32 to 65 mm |
| Flow Rates: | 50 to 1200 lpm |
| Head: | 3 to 18 m |
| Liquid temp: | -10 oC to +90 oC |
| Max. working pressure: | 10 Bar |
 3' series Stainless Steel End Suction Pumps to DIN 24255 standard
These series of stainless steel pumps feature a unique one piece volute casing that are produced using an advanced computer controlled Plasma stamping system that ensures total quality control during manufacture.  With the smooth surfaces of stamped stainless steel, this results in consistent high standard products, of superior quality and high efficiency.
Ebara Centrifugal Pumps – The back pull-out construction permits the disassembly and overhaul of the impeller, shaft and bearings, without removal of the suction or discharge piping, or pumps casing.
The centre line discharge and foot support under the casing ensure maximum resistance to misalignment and distortion from pipe pumps loads.
Suitable for many applications pumps:
Industrial, commercial and agricultural applications pumps
Booster sets and cooling towers
Washing plants and air conditioning systems
Water supply pumps and irrigation
Heat exchangers
Pumping or boosting of water in general
With 2 different versions, and with 2 pole & 4 pole models available, there is a large range from which to ensure the correct pumps is selected.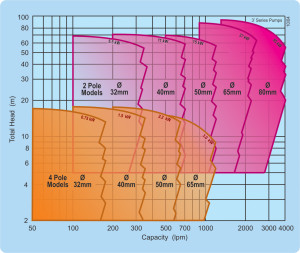 The basic CR Grundfos pump range, which can be applied in almost any industrial solution, is already in itself the broadest range available. Through our modular approach, we have made it even broader.
The basic CR Grundfos pump range is available in four different materials: cast iron, two grades of stainless steel, and all-titanium. There are eleven flow sizes, capable of producing up to almost 50 bar of pressure, and with a variety of shaft seals, rubber materials and supply voltages.
Pump parts which are typically vulnerable to difficult liquids or particularly demanding operating conditions can be optimised for their purpose and designed for specific requirements.
Applications of CR Grundfos pump
CR Grundfos pumps provide a complete range of pump solutions so that all applications, industrial and domestic, can benefit from the Grundfos touch. The applications that can be covered include the following:
Process water systems
Washing and cleaning systems
Seawater systems
Pumping of acids and alkalis
Ultrafiltration systems
Reverse osmosis systems
Swimming baths.
Features and Benefits – CR Grundfos pump
Reliability
High efficiency
Service-friendly
Space-saving
Suitable for slightly aggressive liquids
High corrosion resistance
Single-pump solution making high pressures possible.