Submersible
Pumps with Channel Impeller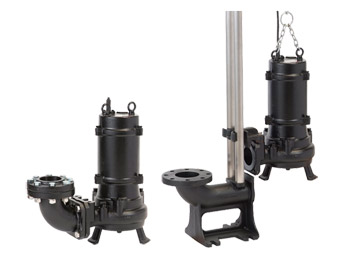 | | |
| --- | --- |
| Discharge Bore(mm) | 50 – 150 |
| Motor Output(kW) | 1.5 – 7.5 |
The NH series is a cast iron made, submersible wastewater pump utilizing 2-pole motor. This impeller is a shrouded two-channel impeller. Each channel is designed to have a larger area and it enables the pump to be suitable for pumping wastewater containing a certain size of solids. The pumps are available in six motor sizes ranging from 1.5 to 7.5kW and available in either High-Head or High-Volume Type.
Submersible cast iron wastewater, sewage pump
K-Series: Model DLKFU
The Ebara K-series design features address the most common reasons for clogging caused by fibrous materials.
Ebara DLKF series pumps are designed to tackle clogging challenges. The Ebara K-series submersible sewage pump maintains the same quality and durability of the Ebara DLF line but with enhanced passage capabilities for handling of fibrous waste.
---
Specifications
Discharge Size: 2″ to 12″
Range of HP: to 60 HP
Capacity: to 4000 GPM
Head: 7 to 243 Ft.
Max. solid diameter: 3 1/4″
Max. liquid temperature: 104°F (40°C)
FM explosion proof available
---
Key Features
Reduces material caught on the vane tips
Increases inlet pressure which keeps debris moving instead of recirculating
E-liminator groove disrupts the accumulation of fibrous debris
---
Applications
Industrial
Municipal
Water
Wastewater
Submersible cast iron sump pumps
Model DSU, DSHU Series
The model DSU, DSHU submersible pumps are constructed of rugged cast iron suitable for sump and drainage pumps applications. The model DSHU pumps can handle hot water applications up to 176°F.
---
Specifications Pumps
Pumps Discharge Size: 2″, 3″, 4″
Range Pumps of HP: 1/2 to 10 HP
Pumps Capacity: 8 to 390 GPM
Pumps Head: 8 to 126 Feet
Max. liquid temperature:

122°F/50°C (Model DSU)
158°F/70°C (Model DSHU 1/2, 1 HP )
176°F/80°C (ModelDSHU 2 to 5 HP)
200°F/93°C (ModelDSHU limited to 10 minutes)
---
Key Features Pumps
Air-filled, heavy-duty motor rated for 20 starts/hour – operates cooler with higher efficiencies
Built-in autocut motor protection – protects against overheat, out of phase, single phasing, and no load
60,000 hour bearings – long dependable operation, lower maintenance costs
Semi-open impellers – best design for handling stringy and abrasive materials providing durability and longer life
Double mechanical seals – operate in an oil bath providing longer service life and lower maintenance costs
Stainless steel shaft – high tensile strength and corrosion resistance
Small and lightweight – easy to transport for temporary installations
Accessories – Cast iron discharge elbow available for 3 to 5 HP models; optional QDC system available
---
Applications Pumps
Water
Dewatering
Drainage
Effluent
Hot Water
Self-priming trash pumps
Model EFQU, EFQT Pumps
EBARA EFQ series pumps are available in a wide range of materials and sizes to handle solids and light slurries efficiently and effectively. The EFQ trash pumps features a large volute that allows for quick priming even with the casing only partially filled and an open suction line. Pumps Easy to install in various mounting configurations including flex-coupled and horizontal or vertical V-belt, the EFQ series work in a wide range of commercial, municipal and industrial water, wastewater and sewage applications Pumps.
---
Specifications Pumps
Pumps Discharge Size: 2 to 12 inch
Range of HP: to 125 HP
Pumps Capacity: to 3400 GPM
Head: to 210 Ft.
Pumps Max. solid diameter: 3″
---
Key Features Pumps
Large solids handling capabilities prevents clogging – 3″ solids handling (EFQT), 1.25″ solids (EFQU)
Robust cast iron casing with ductile iron impeller standard
Easy maintenance – Removable cover plates and rotating elements for quick inspection and cleaning of the pump without having to detach from the piping
Backside pump-out vanes reduce pressure on the seal and exclude solids from the seal area
Multi-vane, semi-open, high efficiency impellers
External shimless wear plate adjustment
Easy removal cover plates and rotating element
Cartridge Seals with Silicon Carbide/Silicon Carbide faces; design allows for quick replacement and ease of installation
Alternate construction materials available on request including 304SS, 316SS and CD4 MCU
Diesel engine operation, trailer or skid mounted
---
Applications Pumps
Water
Wastewater
Sewage
Slurry
Irrigation
Dewatering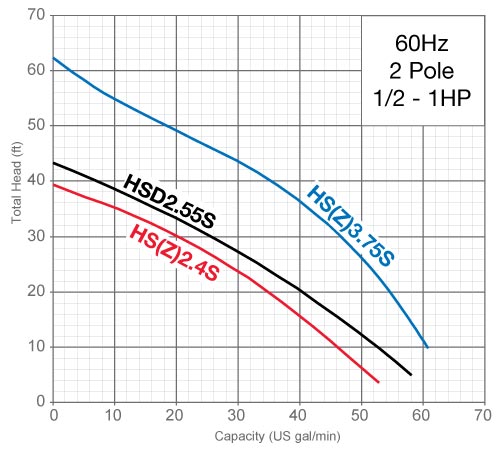 Kegunaan :
• Memompa dan menguras air kotor yang berpasir dan berlumpur tanpa masalah yang berarti
• Cocok untuk penggunaan pada tempat yang tidak bersahabat
• Pengisian dan pengurasan air yang mudah dan cepat
• Hemat listrik dan usia pakai panjang
• Saklar apung yang berkerja secara otomatis untuk menghindari jalan pompa tanpa air dan juga menghemat listrik ( model HSZ)
Cocok digunakan untuk:
• Pengolahan air limbah
• Perumahan dan Perkantoran,
• Apartemen dan Rumah Sakit
• Kolam,tambak, pemancingan dll
• Peternakan ikan hias dankonsumsi
• Akuakultur
• Kolam renang
• Jeram buatan
• Dinas, instansi dan pusat riset perikanan.
• Industri