submersible pumps

GRUNDFOS Submersible Pump SP 3A-15
Specification SP 3A-15
Diameter
:
4″
Daya Maximum
:
240 V
Power
:
1,1 Kw 1Ph
Maximum Head
:
95 m
Maximum Flow
:
5000 L/h
More Info SP 3A-15
The Grundfos SP3A-15 is an all 304 stainless steel submersible pump
fitted with a genuine Grundfos MS402 304 stainless steel single phase
1.1 kW motor. Suitable for medium flow irrigation systems, commercial
and industrial applications, and domestic or stock water tank filling applications.
The Grundfos SP series pumps are heavy duty and are supplied with a 2-year warranty
Max head 95m
Flow 400L to 5000L/hour
Submersible cast iron grinder pump
Model EBG, EBHG Pump
The model EBG, EBHG submersible grinder pump series handle residential or light commercial sanitary waste in pressurized sewer systems. The heavy-duty, high chrome iron grinder system has powerful blades that reduce solid sizes to a fine slurry for smooth, non-clogging flow. The pump is small and lightweight affording ease in transport and ideal for use in temporary installations.
---
Specifications Pump
Discharge Pump Size: 1 1/4″ NPT, 2 1/2″, 3″ ANSI
Range of HP: 2 to 7 1/2 HP
Capacity Pump: 20 to 180 GPM
Head Pump: 8 to 170 Ft.
Max. liquid temperature: 120°F (49°C) [140°F (60°C) intermittent]
---
Key Features Pump
Casing Pump – durable cast iron ASTM A-48, Class 30
Heavy-duty hardened stainless steel grinder system – powerful blades create a fine slurry for non-clogging flow and provide trouble free, dependable operation
Open vortex type recessed impeller – vortex action prevents clogging and handles stringy material better providing durability, high reliability with lower maintenance costs
Oil filled, Class H insulated heavy-duty motor – operates cooler with higher efficiencies pump
Built-in motor protection – protects against overheat, out of phase, single phasing and no load
50,000 hour bearings – provides long dependable operation and lowers maintenance costs
Double mechanical seals – provide longer service life and lower maintenance costs
Stainless steel shaft – high tensile strength and corrosion resistance
Small and lightweight – easy portability
High head option available
Economical alternative for challenging residential/commercial installations pump
---
Applications Pump
Residential/Commercial sanitary waste
Small scale pressurized sewage transfer systems
Drainage transfer Pumps
Submersible non-clog, single channel impeller sewage pumps
Model
DMLEU Pumps
The model DMLEU Pumps non-clog, single channel impeller pumps are suitable for use in commercial and industrial wastewater applications pumps and are an economical alternative to other competitive submersible wastewater pumps.
The model DMLEU Pumps is constructed of durable cast iron with a large diameter, short overhang shaft and stainless steel fasteners. The single channel impeller prevents clogging and is capable of handling large spherical solids up to 3". An oil lubricated double mechanical seal with hard silicon carbide lower faces provides strong and reliable shaft sealing leading to longer operation and service life.
---
Specifications DMLEU Pumps
Discharge Size: 3″, 4″, 6″
Range of HP: 3 to 30 HP
Capacity Pumps: 55 to 1345 GPM
Head Pumps: 12 to 136 Feet
Max. solid diameter: 3″
Max. liquid temperature: 104°F (40°C)
Available in three phase models
---
Key Features DMLEU Pumps
Economical alternative – commercial/industrial use
Non-clog, single channel impeller – 3″ spherical passage; prevents clogging; high-efficiency and saves energy
Robust construction – large diameter, short overhang shaft with stainless steel fasteners
Double mechanical seals – hard faced upper and lower seals operate in an oil bath providing longer service life and lower maintenance costs
Air-filled, Class F insulated heavy-duty motor – operates cooler with higher efficiencies
Built-in motor protection with autocut – protects against overheat, out of phase, single phasing and no load
Stainless steel shaft – high tensile strength and corrosion resistance
---
Applications DMLEU Pumps
Commercial
Industrial
Sewage
Water Pumps
Wastewater
Drainage (household, industrial)
Effluent
Dewatering
Construction
Agriculture
Ponds
Large submersible cast iron wastewater, sewage pumps
DSC, DSCA3 Pumps
The model DSC, DSCA3 submersible pumps are constructed of rugged cast iron with heavy-duty, high-efficiency motors suitable for industrial and municipal water and wastewater, sewage and flood control applications pumps. The large submersible non-clog pumps has the ability to pass spherical solids up to 8″ in diameter and can be installed in wet or drypit configurations.
---
Specifications Pumps
Discharge Pumps Size: 6″ to 24″
Range of HP: 30 to 500 HP
Capacity Pumps: 530 to 35,000 GPM
Head Pumps: 8 to 300 Ft.
Max. solid diameter: 8 1/8″
Max. liquid temperature: 104°F (40°C)
FM explosion proof available
---
Key Features Pumps
Heavy-duty, air-filled Class H insulated motor Pumps– operates cooler with higher efficiencies
Watertight cable entry system – protects against moisture and capillary action and reduces maintenance costs
Self-cooling jacket – provides high reliability and effectively dissipates heat
Double and triple row lubricated thrust bearings – L-10 life of 100,000 hours equates to long, dependable operation and lower maintenance costs
Float type leakage detector – provides early warning of mechanical seal failure avoiding costly motor repairs
Cartridge type, duplex mechanical seals – assembled in tandem arrangement leading to high reliability and easy maintenance
High-efficiency, closed mixed flow impellers – are able to pass large diameter solids with high outputs, preventing clogging and lower operating costs
Replaceable case liner ring – maintains working clearances while reducing casing costs
---
Applications Pumps
Industrial
Municipal
Water
Wastewater
Flood control
---
Design
Axial submersible pump with dry motor for use in pipe sumps
Application
For pumping cooling water or rainwater
Pumping of purified sewage
For irrigation and pumping sludge.
Type key
| | |
| --- | --- |
| Example: | Wilo pump-EMU KPR 760-16° + T 49-10/53P Ex |
| Hydraulics: | KPR 760-16° |
| KPR | Axial pump |
| 760 | Propeller diameter |
| 16° | Angular position of the propeller blades |
| | |
| Motor: | T 49-10/53P Ex |
| T | Motor version |
| 49 | Size |
| 10 | Number of poles pump |
| 53 | x10 = package length [mm] |
| P | Motor for axial pump |
| Ex | Ex-rated |
Special features/product advantages
Installation pump directly in the discharge pipe
Angle of propeller blades adjustable
Pump Process reliability thanks to comprehensive monitoring devices
Minimal vibrations and long service life due to high-quality components pump
Customer-specific versions possible
Technical data
Mains connection: 3~400 V, 50 Hz
Immersed operating mode: S1
pump Protection class: IP 68
Max. fluid temperature: 3 ‐ 40°C, higher temperatures on request
Sealing: With two mechanical seals or one block seal cartridge, depending on the motor
Free ball passage: 85 – 130 mm.
Short common pump/motor shaft
Permanently lubricated roller bearings
Max. immersion depth: 20 m
Equipment/function
Heavy-duty version in cast iron
Description/design
Axial submersible pump as submersible monobloc unit for stationary wet installation
Hydraulics
The angle of the propeller/impeller blades can be adjusted by hand. This makes it possible to adapt the unit to use in different conditions.
Motor
Dry motors (T motors) give off their heat directly to the surrounding fluid via the housing components and can be used in immersed state for permanent operation.
A sealing chamber protects the motor from fluid ingress. It can be accessed from the outside and can be monitored with an optional sealing chamber electrode.
All filling fluids used are potentially biodegradable and environmentally safe.
The cable inlet of the T motors is longitudinally watertight. Cable lengths can be individually configured.
Sealing
Fluid-side and motor-side sealing is possible in the following versions depending on the motor type:
Version G: Two independently operating mechanical seals
Version K: Block seal cartridge with two independently operating mechanical seals
Materials
Pump Housing components: EN-GJL
Propeller: Stainless steel
Sealing on pump side: SiC/SiC
Sealing on motor side: SiC/SiC
Pump Static seals: NBR
Pump Shaft: Stainless steel 1.4021
Scope of delivery
Axial submersible pump
Cable length per customer request
Accessories per customer request
Operating and maintenance manual
Accessories
Pump Switchgears, relays and plugs
Submersible slurry pump
Ebara Model ENZX
The Ebara model ENZX heavy-duty submersible slurry pump is designed Ebara to operate in the harshest conditions and handle corrosive and abrasive slurries. Several unique design features built in to the EBARA model ENZX increase efficient and effective pumping of slurries with the ability to handle concentration of solids up to 30 percent. Durable construction extends wear life in corrosive environments and decreases wear on the pump ultimately lowering operating and maintenance costs.
---
Specifications of Ebara
Discharge Size: 2″ to 6″
Range of HP: 7.5 to 30 HP
Capacity: to 1200 GPM
Head: to 140 ft.
Max. Solid Diameter: 1.26″ (32 mm)
Max. Liquid Temp.: 104°F (40°C)
---
Key Features Ebara
Enclosed high-chrome iron impeller – Ebara Longer lasting, higher efficiency pumping
Replaceable upper and lower high-chrome iron wear liners – Avoid costly casing replacement due to excessive wear
Integral high-chrome iron elbow
304 Stainless Steel stand, inlet screen and hardware – high tensile strength and corrosion resistance
56.8 Rockwell Hardness for all high-chrome iron components
Thermal overload sensor – Protects the motor by shutting down if internal temperature exceeds operating range
Motor moisture float switch – Ebara Alerts the operator if moisture is detected inside the motor housing
Double mechanical seals – Safely operate in oil chamber away from ebara pumped slurry providing longer service life and lower maintenance costs
Designed to handle concentration of solids up to 30% with ebara.

---
Applications for Ebara
Industrial
Municipal
Mining
Wastewater
Mineral processing
Dewatering
Power utilities
Clean-up sumps
All About Submersible Pumps & Electric Submersible Pumps
Pompa submersible atau Electric Submersible Pump (ESP) adalah sebuah pompa yang dirancang khusus, di mana motor dan komponen-komponen lainnya tertutup rapat, karena pada penggunaannya nanti seluruh permukaan pompa ini akan terendam ke dalam cairan. Pada umumnya pompa yang sering kita jumpai berada di atas cairan dan menyedot cairan sebagaimana pompa jet (Jet Pump). Berbeda halnya dengan pompa ini. Pompa ini diletakkan di dalam cairan dan mendorong cairan melalui pipa-pipa salurannya. Pompa ini lebih efisien dibandingkan pompa jet. Penggunaan teknologi pompa ini banyak dijumpai di dalam dunia industri.
Prinsip Kerja Pompa
Pompa-pompa submersible yang digunakan dalam instalasi Electric Submersible Pump (ESP) adalah pompa sentrifugal multistage yang dioperasikan dalam posisi vertical. Meskipun dari tahun ke tahun kontruksi pompa submersible semakin berkembang dan memiliki banyak fitur, namun sebenarnya pompa submersible memiliki prinsip kerja dasar yang sama. Cairan diputar oleh impeller dengan kecepatan rotasi yang tinggi sehingga mengalami gaya sentrifugal, kemudian cairan tersebut kehilangan energi kinetik di dalam diffuser di mana konversi energi kinetik menjadi energi tekanan berlangsung.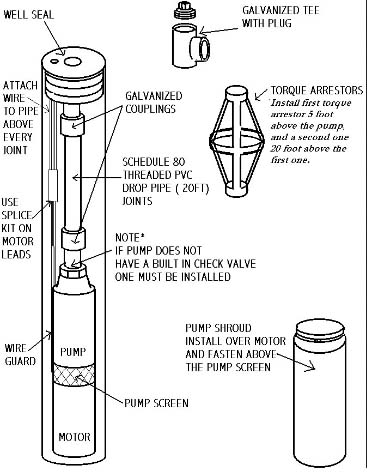 Skema Umum Pompa Submersible
Penggunaan Pompa Submersible
Pompa submersible banyak ditemukan dalam dunia industri. Pompa ini biasanya digunakan untuk drainase, industri pompa umum dan pemompaan lumpur. Pompa ini juga banyak digunakan dalam filter kolam. Jenis pompa submersible bertingkat biasanya digunakan pada lubang bor dan digunakan untuk abstraksi sumur air dan sumur minyak. Pemanfaatan pompa submersible yang lain yaitu digunakan pada instalasi pengolahan limbah, penanganan air laut, pemompaan air tanah, pemadam kebakaran (karena kabel tahan api), pengeboran sumur bor dan air, pengeboran lepas pantai, lift buatan, dewatering tambang dan sistem irigasi.
Dari beberapa macam dan jenis-jenis pompa air, jenis pompa submersible didesain dan dirancang khusus dan berbeda dengan jenis pompa lainnya. Cara peletakkan pompa submersible yang di dalam air ternyata memiliki beberapa efek menguntungkan. Beberapa kelebihan pompa submersible yaitu:
Secara tata letak, penggunaan pompa submersible lebih praktis karena penempatannya berada di dalam sumur
Tidak bising karena berada di dalam air maka suara bising pompa diredam oleh cairan
Pompa tidak mudah panas. Cairan (air) memiliki kecenderungan memiliki suhu yang relatif dingin dan stabil. Karena keberadaan pompa di dalam air, maka pompa submersible tidak mudah panas
Sistem pompa submersible tidak menggunakan shaft penggerak yang panjang dan bearing, jadi permasalahan yang biasa terjadi pada pompa permukaan (Jet Pump) seperti bearing dan shaft yang aus, tidak terjadi pada pompa submersible.