end-suction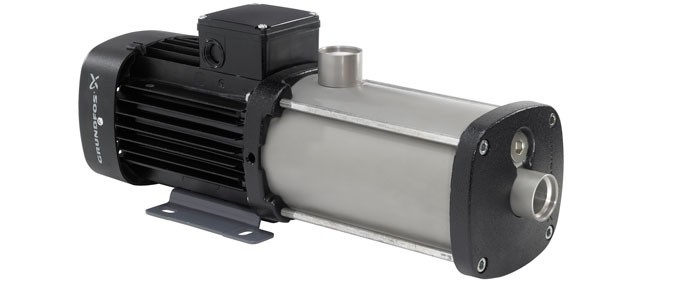 The Grundfos Pumps horizontal multistage pump CM (=Centrifugal Modular) has been created with compactness and modularity as two of its central features, making numerous configurations possible. The pump is basically composed of a series of interchangeable modules, all of which have been designed to work together seamlessly, no matter what the application.
The pumps are of the close-coupled type.
The difference between the CM and the CME pump ranges is the motor. CM pumps are fitted with mains-operated motors, whereas the motors for CME pumps have an integrated frequency converter.
Both CM and CME Grundfos Pumps have mechanical shaft seals.
The CM and CME Grundfos Pumps are available in cast iron or stainless steel (AISI 304/DIN 1.4301 stainless steel, which is for water and non-corrosive liquids, and AISI 316/DIN 1.4401 stainless steel, which offers a high degree of corrosion protection against aggressive liquids).
Applications of Grundfos Pumps
The CM or CME Grundfos Pumps is a multi purpose pump for both industry and water boosting in general.
It is compact, noiseless, reliable and flexible, and this make it an optimal solution for installation and interaction with other components in small and large systems or as a stand-alone pump.
Features and benefit Of Grundfos Pumps

Compact design
Modular construction/customised solutions
Worldwide usage
High reliability
Service-friendly
Wide performance range
Low noise level
High-performance hydraulics
Electro-coated cast-iron parts
Customised solutions
Grundfos motor
E-solutions
High efficiency.
Stainless steel two-stage end suction centrifugal pumps
The model 2CDXU, 2CDU two-stage, end suction pumps are constructed of bulge formed stainless steel and designed for corrosion resistance, dependable performance and high-efficiency, continuous duty. High-quality stainless steel components are stronger, dimensionally consistent and lighter weight compared to conventional cast iron, making EBARA centrifugal pumps competitively priced and an economical advantageous choice. Models 2CDXU, 2CDU Pumps are suitable for commercial and industrial pressure boosting and general water applications including water supply, water treatment, irrigation and in air conditioning systems.
Model 2CDU is NSF/ANSI 61 Annex G listed
---
Specifications Pumps
Suction Pumps Size: 1 1/4″ to 1 1/2″ NPT thread
Discharge Pumps Size: 1″ NPT thread
Range of HP: 2 to 5 HP
Capacity Pumps: 5.5 to 66 GPM
Head Pumps: 98 to 245 Ft.
Max. working pressure: 125 PSI (9 Bar)
Temperature: 212°F (100°C)
Liquid: clean water
---
Key Features Pumps
Close coupled design Pumps- saves space; simplifies maintenance and installation
Stainless steel liquid end components- high quality; corrosion resistance
Versatile mounting- can be installed vertically or horizontally
Back pullout construction- assembly and overhaul of the impeller and seal without distorting suction and discharge connections
Top centerline discharge and foot support under casing- ensures self-venting and reduces misalignment from pipe loads
High operating efficiency- lowers operating costs
High quality mechanical shaft seals and o-rings Pumps- available for standard pumping requirements, or optional high temperature and chemical duty operation.
Available with IP55 TEFC motors (2CDXU) or Standard NEMA motor (2CDU)
---
Applications Pumps
Pressure boosting pumps
Plant services
Water supply systems
Liquid transfer
Ultrapure water systems
Pharmaceutical services
Reverse osmosis
Water reclamation
Water treatment
OEM equipment application
Pompa Horisontal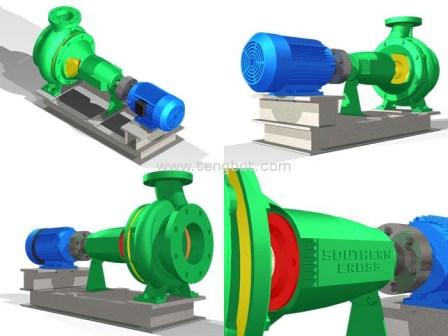 Horisontal yang paling banyak digunakan mempunyai kaki di bawah kursi bantalan atau dibawah rumah pompa. ini disebut Foot Mounted, Pada suhu zat cair yang tinggi, kita dapat membuat foot mounted. Sebagai akibat dari pemuaian, akan menjadi bengkok diatas fondasi. dalam hal itu maka jauh lebih baik untuk menunjang dalam garis sumbu horisontal. Sekarang itu menjadi centerline mounted. untuk membatasi ukuran pompa dan motor, maka kedua pesawat ini seringkali dibangun bergandengan sebagai satu kesatuan: Pompa Monoblock. Kipas biasanyya dipasang pada (perpanjangan) poros : Closecoupled. Disebut juga Closecoupled, pompa yang dibangun ke dalam. Oleh karena itu dalam Industri proses sangat banyak digunakan pompa dan dalam cabang industri ini bahasa inggris menjadi bahasa pengantar, maka dalam teknik pompa sangat banyak pula ditemukan nama dalam Bahasa Inggris. Untuk Istilah dalam bahasa Belanda dan bahasa Indonesia belum ditemukan istilah-istilah yang tepat.
Pompa Vertikal

Sehubungan dengan bobotnya, rumah pompa disini dipasang dengan kaki diatas tanah. Jenis In-Line Spesial. Jenis ini dipergunakan dalam proses industri jika kondisi Hisap sangat tidak menguntungkan untuk membuat pompa bekerja dengan baik. Bagian yang sesungguhnya di pasang dalam sebuah bejana dibawah saluran : Barrel Type. Pompa ini dapat pula umpamanya digantungkan dalam tanah, didalam sebuah sumur. Dengan demikian diperoleh ketinggian aliran masuk ekstra, tanpa mempergunakan banyak ruang tempat, lengkung tambahan dan pekerjaan saluran. Penghematan ruang tempat dapat juga diperoleh dengan pompa Vertikal. Lentera yang merupakan hubungan antara bagian motor dan bagian pompa. Bantalan dari poros dipasang dalam bagian lentera ini diatas rumah pompa.
Jika ruang keatas juga terbatas, maka disini juga dapat dilaksanakan clouse coupled. Bagian lentera yang pendek tidak memiliki bantalan dan kipas dipasang pada perpanjangan poros motor. Bila kamar bawah tanah tempat dipasang sangat basah atau kadang-kadang dapat terendam air, maka haruslah diambil vertikal yang diperpanjang. Akan tetapi motor ditempatkan siatas bagian lentera tersendiri diatas lantai yang lebih tinggi. Di antara pompa dan motor terdapat poros perpanjangan tersendiri, yang kadang-kadang harus diberi bantalan pula. sudah tentu bahwa keseluruhannya harus diarahkan dengan teliti sekali. Didalam kapal biasanya terdapat  kekurangan ruangan dan juga luas lantai. disini kadang-kadang digantungkan pada dinding vertikal : Pemasangan dinding ( Wal Mounted ).
Pemasangan Basah.
Pompa untuk pemasangan basah, kita masih dapat mengadakan perbedaan antara ;
Pompa dengan hanya pompanya saja yang berada didalam zat cair dan motor terletak diatas zat cair ( Pompa Benam danSumur Dalam yang panjang ).
Pompa dan motor yang dibenamkan ke dalam zat cair ( Pompa Sungku dan Bawah Air )