Pompa Wilo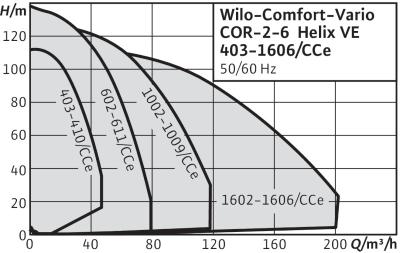 Design
Highly efficient water-supply unit ready for connection (non self-priming). With 2 to 6 vertically arranged Helix VE series stainless steel high-pressure centrifugal pumps in glanded version switched in parallel; every pump is equipped with an integrated air-cooled frequency converter, including Comfort Controller CCe
Application
Fully automatic water supply and pressure boosting in residential, commercial and public buildings, hotels, hospitals, department stores and for industrial systems.
Pumping of drinking water, process water, cooling water, fire water (apart from fire-extinguishing systems in accordance with DIN14462) or other water mixtures that do not attack the materials used chemically or mechanically and do not contain abrasive or long-fibre constituents
Type key
| | |
| --- | --- |
| Example: | Wilo-COR-4 Helix VE 1603/K/VR |
| COR | Compact pressure boosting system with integrated speed control of each pump |
| 4 | Number of pumps |
| Helix VE | Pump series |
| 16 | Rated volume flow [m3/h] of the single pump |
| 03 | Number of single pump stages |
| K | With cartridge mechanical seal |
| 5.5 | Rated motor power P2 in kW [only included if more than one motor is available for types with the same hydraulic output] |
| CCe | Control device; CCe = Comfort Controller for pumps with integrated frequency converter |
Special features/product advantages
Sturdy system with Helix VE stainless steel high-pressure circulation pumps with integrated frequency converter that can be controlled from 25 Hz to 60 Hz
High-efficiency pump hydraulics
Entire system is pressure-loss optimised
Integrated dry-running detection with automatic deactivation via the motor control electronics
Maximum degree of control using the CCe control device with additional functions, micro-computer control and touch display
Technical data
Mains connection 3~400 V ± 10%, 50 Hz; 3~380/440 V ±10 %, 60 Hz
Max. fluid temperature +50 °C (+70 °C optional)
Ambient temperature max. 40 °C
Operating pressure 16 bar (25 bar optional)
Inlet pressure 10 bar
Nominal connection diameters on discharge side R 1½ ‐ DN 125
Nominal connection diameters on inlet side R 1½" – DN 125
Speed range 1500-3770 rpm
Protection class: IP 54
Fuse protection on mains side A, AC 3 according to motor power and EVU regulations
Approved fluids (other fluids on request):

Drinking water and domestic hot water
Cooling water
Fire water

Note on fluids: Approved fluids are generally waters which do not attack the materials used, neither chemically nor mechanically, and do not contain any abrasive or long-fibre constituents. System in accordance with DIN 1988 (EN 806)
Equipment/function
2-6 pumps per system of the Helix VE 4 to Helix VE 16 series, with IE2-equivalent standard motors and variable auto control with integrated frequency converter for each pump
Automatic pump control via Comfort Controller CCe
Parts that come in contact with the fluid are corrosion-resistant
Base frame made of galvanised steel, with height-adjustable vibration absorbers for insulation against structure-borne noise
Check valve on the suction and pressure sides of each pump
Non-return valve on the pressure side of each pump
Diaphragm pressure vessel 8 l, PN16, pressure side
Pressure sensor, pressure side
Pressure gauge, pressure side
Optional low-water cut-out switchgear with pressure gauge, suction side
Description/design
Base frame: galvanised steel, with height-adjustable vibration absorbers for comprehensive insulation against structure-borne noise; other versions on request
Pipework: complete pipework made of stainless steel, suitable for the connection of all piping materials used; the pipework is dimensioned according to the overall hydraulic performance of the pressure boosting system
Pumps: 2 to 6 pumps of the Helix VE 4.., 6.., 10.., 16.. series are used, which are connected in parallel. The air-cooled frequency converters mounted on the pump motor enable infinitely variable control between 25 Hz and a maximum of 60 Hz for all pumps of this series. All parts which come in contact with fluid are made of stainless steel for the Helix VE 4.., 6.., 10.., 16..; other versions on request. KTW/WRAS/ACS approval for all parts that come in contact with the fluid
Valves: With the Helix VE 4.., 6.., 10.., 16.. series, every pump is fitted on the suction and pressure side with a check valve with DVGW approval mark and on the pressure side with a non-return valve with DVGW/KTW approval
Diaphragm pressure vessel: 8 l/PN16 to be arranged on the discharge side. With a diaphragm made of butyl rubber, with DVGW/KTW approval, completely safe in accordance with food safety laws for testing and inspection purposes, with drain and throughflow valve with DVGW/KTW approval in accordance with DIN 4807.
Pressure sensor: 4 to 20 mA, located on the discharge side for controlling the central Comfort Controller CCe
Pressure indication: pressure gauge (ø 63 mm) arranged on the discharge side; additional digital indication of the discharge pressure on the alphanumeric touchscreen on the Comfort Controller
Switchgear/controller: The system is equipped with a Comfort Controller CCe as standard
Materials
For the series with Helix VE 4 to VE 16:
Impellers, diffusers, stage housing made of stainless steel 1.4307
Pump housing made of stainless steel 1.4301
Shaft made of stainless steel 1.4057
1.4404 shaft protection sleeve
O-ring gaskets made of EPDM (FKM gasket on request)
Pipework made of stainless steel 1.4571
Scope of delivery
Factory-mounted, connection-ready pressure boosting system checked for functionality and impermeability
Packaging
Installation and operating instructions
Transport eyes for self-assembly
Planning guide
Inlet pressure
The maximum inlet pressure (see Technical data) must be taken into account when configuring the system. The maximum permissible inlet pressure is calculated from the maximum operating pressure of the system minus the maximum pump delivery head at Q = 0
Pressure reducer
Fluctuating inlet pressure is compensated by the speed control integrated into each single pump as long as the pressure fluctuation is not greater than the difference between the setpoint pressure value and the zero-delivery head of the single pump at minimum speed. If the pressure fluctuation is greater, a pressure reducing valve must be installed upstream of the system.
Volume flow
Up to 155 m3/h (43 l/s) system configuration in accordance with DIN 1988 (EN 806); with standby pump up to 185 mm3/h (51 l/s) during operation of the standby pump as an auxiliary peak-load unit
Residual-current-operated protection
switch
When installing residual-current-operated protection switches in conjunction with frequency converters, bear in mind that only universal-current-sensitive residual-current-operated protection switches in accordance with DIN/VDE 0664 are to be fitted.
Wilo-WMS low-water cut-out switchgear
The series Helix VE pump being used is already equipped with an integrated dry-running detection as safety equipment for the pump. Nevertheless, the installation of a low-water cut-out switchgear is required in cases where the pressure boosting systems are connected directly to a public mains power supply; that prevents the inlet pressure in the mains supply line from falling below 1.0 bar. Please order directly when ordering the pressure boosting system. The WMS will then be installed in the pressure boosting system, electrically wired and fully tested by Wilo during the final functional test.
Standards/directives
The overall system conforms with the requirements of
DIN 1988 Part 5
DIN 1988 Part 6* (**)
* The specifications in DIN 1988 (EN 806) and of the water-supply companies are to be observed. Regarding the electrical components, the system conforms with the requirements of
VDE 0100 Part 430/Part 540
VDE 0110 Part 1/Part 2
VDE 0660 Part 101/Part 107 and
DIN 40719/IEC 754
Always observe the specifications in DIN 1988 (EN 806) when using and operating the pressure boosting system.(**) That does not apply to fire extinguishing systems in accordance with DIN 14462. Please request these separately.
Design Of Wilo Pumps

Single-stage low-pressure centrifugal Wilo Pumps with axial suction point, according to EN 733 and ISO 5199, mounted on a baseplate.
Application Wilo Pumps

For pumping heating water (in accordance with VDI 2035), water-glycol mixtures and cooling and cold water without abrasive substances in heating, cold water and cooling water systems
For applications regarding the municipal water supply, irrigation, building services, industry, power stations etc. (e.g. circulation, transfer and pressure-boosting tasks)
Type key of Wilo Pumps

| | |
| --- | --- |
| Example | NL 40/200B-11/2 |
| NL | Standard pump with axial suction |
| 40 | DN for the pressure flange |
| 200B | Nominal diameter of impeller |
| 11 | Rated motor power P2 [kW] |
| 2 | number of poles |
Special features/product advantages of Wilo Pumps

Reduced life-cycle costs through optimised efficiency levels
Bidirectional, force-flushed mechanical seal
Low NPSH values, best cavitation properties
Shaft coupling with or without intermediate sleeve
Shaft deflection satisfies the requirements of ISO 5199
Technical data of Wilo Pumps

Minimum Efficiency Index (MEI) ≥ 0.4
Permissible temperature range of -20°C to +120°C
Mains connection 3~400 V, 50 Hz
Protection class IP 55
Nominal diameter DN 32 to DN 150
Max. operating pressure 16 bar
Scope of delivery
Wilo Pumps with free shaft end or
Wilo Pumps on baseplate with coupling and coupling protection or
Completely mounted pump on baseplate with electric motor
Installation and operating instructions
Materials of Wilo Pumps

Wilo Pumps housing and pressure lid: EN-GJL-250
Bearing bracket: EN-GJL-250
impeller: EN-GJL-250
(special version: G-CuSn10)
Shaft: X20Cr13
Mechanical seal: AQ1EGG
(other mechanical seals on request)
Description/design of Wilo Pumps

Wilo Pumps Single-stage low-pressure centrifugal pump as baseplate pump with axial suction piece with flanged bearing bracket and axis mounting for flexibly coupled drives.
Spacer coupling (sleeve coupling) available as an option; they make it possible to leave the motor in position when removing the rotor unit
Shaft deflection meets the requirements of ISO 5199
Commissioning
If pumps with 2900 rpm are installed inside residential buildings, then corresponding noise reducing measures are to be implemented.
Pump curves and specific motor powers depend on the respective fluid being pumped. Pump curves and power vary considerably when fluids are conveyed that differ from water in thickness and/or viscosity. For this, please observe the table "Recommended limit values for dimensioning".
The recommended limit values for dimensioning are calculated as follows:
Qoptimum (volume flow at which the pump reaches its best efficiency), to be read from the individual pump curve; factors Qmin and Qmax , to be taken from the table "Recommended limit values for dimensioning".Qmin dimensioning = Qmin x Qoptimum
Qmax dimensioning = Qmax x Qoptimum
Example: Size NL 32-125
Qmin = 0.3 x 8 = 2.4 m3/h
Qmax = 1.2 x 8 = 9.6 m3/h
Load-sensitive pump output
All Wilo standard pumps are equipped with IEC standard motors. The Wilo control devices are suitable for automatic load-sensitive speed control of pumps that are driven by any standard motors of conventional manufacture.
Main/standby mode
Accessories Wilo Pumps

Automatic speed control:
for automatic, infinitely variable pump power control. for additional information, see "Switchgears and control devices" section.
Note
Motors with efficiency class IE3, other voltages and frequencies on request
General notes – ErP (ecological design-) directive
The benchmark for most efficient water pumps is MEI ≥ 0.70
The efficiency of a pump with a trimmed impeller is usually lower than that of a pump with the full impeller diameter. The trimming of the impeller will adapt the pump to a fixed duty point, leading to reduced energy consumption. The minimum efficiency index (MEI) is based on the full impeller diameter.
The operation of this water pump with variable duty points may be more efficient and economic when controlled, for example, by the use of a variable speed drive that matches the pump duty to the system.
Information on benchmark efficiency is available at www.europump.org/efficiencycharts
Glanded wilo pumps in in-line design with flange connection
Application in the water Of Wilo Pumps

For pumping heating water (in accordance with VDI 2035), water-glycol mixtures and cooling and cold water without abrasive substances in heating, cold water and cooling water systems
Type key of Wilo Pumps

| | |
| --- | --- |
| | IL 40/160-4/2 |
| IL | In-line pump |
| 40 | Nominal diameter DN of the pipe connection |
| 160 | Nominal impeller diameter |
| 4 | Rated motor power P2 in kW |
| 2 | Number of poles |
Special features/product advantages Of Wilo Pumps

Reduced life cycle costs thanks to optimized efficiency
Standard condensate drainage holes in the motor housings
Can be used flexibly in air-conditioning
and cooling systems, with application benefits due to direct draining of condensate via optimised lantern design (patented)
High standard of corrosion protection thanks to cataphoretic coating
High worldwide availability of standard motors (according to Wilo specifications) and standard mechanical seals
Technical data
Minimum Efficiency Index (MEI) to ≥ 0.4
Permissible temperature range -20 °C to +140 °C
Mains connection 3~400 V, 50 Hz (others on request)
Protection class IP 55
Nominal diameter DN 32 to DN 250
Max. operating pressure 16 bar (25 bar on request)
Description/design Of Wilo Pumps

Single-stage, low-pressure centrifugal pump in in-line design with
Mechanical seal
Flange connection with pressure measuring connection R 1/8
Lantern
Coupling
IEC standard motor
Materials Wilo Pumps

Pump housing and lantern: Standard: EN-GJL-250; optionally spheroidal cast iron EN‐GJS‐400‐18‐LT
Impeller: Standard: EN-GJL-200; Special version: Red brass G-CuSn 10
Shaft: 1.4122
Mechanical seal: AQEGG; other mechanical seals on request
Scope of delivery
Pump
Installation and operating instructions
Options wilo pumps

L1 variant with red brass impeller (at additional charge)
H1 variant with housing made of spheroidal cast iron (at additional charge)
P4 variant for maximum operating pressure of 25 bar (see Wilo price list)
Motors with efficiency class IE3, other voltages and frequencies, as well as ATEX approval on request
Accessories of Wilo Pumps

Mounting brackets for installation on a base
PTC thermistor sensor, PTC resistor tripping relay
Special motors
Special mechanical seals
SC-HVAC, CC-HVAC, VR-HVAC control systems and switchgear
General notes – ErP (ecological design-) directive
The benchmark for most efficient water pumps is MEI ≥ 0.70
The efficiency of a pump with a trimmed impeller is usually lower than that of a pump with the full impeller diameter. The trimming of the impeller will adapt the wilo pumps to a fixed duty point, leading to reduced energy consumption. The minimum efficiency index (MEI) is based on the full impeller diameter.
The operation of this water pump with variable duty points may be more efficient and economic when controlled, for example, by the use of a variable speed drive that matches the pump duty to the system.
Information on benchmark efficiency is available at www.europump.org/efficiencycharts