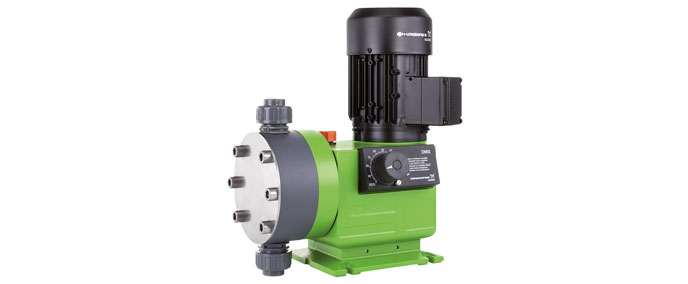 General
The Grundfos DMX range has proven its worth in dosing applications worldwide. With their robust diaphragm-based design and their high-quality motors DMX pumps require minimum maintenance and are best choice for many dosing applications. The DMX range is highly versatile: it covers a wide flow range and offers a variety of dosing head sizes, materials and accessories.
Accurate dosing – all the time
The diaphragm design ensures that the dosing flow variation is below ± 1.5 % and the linearity deviation is kept below 4 % at all times. This allows very precise dosing of your chemicals – as much as necessary, as little as possible.
Smooth and low-pulsation dosing
The DMX series combines sophisticated drive technolo­gy and gear kinematics to ensure smooth and low-pulsation dosing without pressure peaks. This means less stress to all system components, such as tubes and valves, and leads to longer
intervals for the entire system.
Motors to match application needs
For applications with specific motor requirements, the versatile DMX range offers high-quality motors for 50 Hz, 60 Hz, 100 Hz (with Variable Frequency Drive VFD), as well as EX classified or ATEX-certified motors, if required.
Perfect material selection – for housing and liquid-wetted parts
The smaller DMX models have plastic housings offering chemical resistance and all the protec­tion necessary for many applications. The larger models have a robust cast-aluminium housing with epoxy coating to meet all application needs. Investment costs and running costs for spare parts are kept low over the years: A wide choice of materials for dosing head, valves and accessories allow selecting exactly the degree of chemical resistance required. All liquid-wetted parts need to be resistant to the chemicals used. The diaphragm is made of NBR and PTFE-coated.
Compact design – saves money and space
DMX pumps are available in 12 different dosing head sizes. Careful design work has kept them all very compact. This saves material costs and allows placing several pumps right next to each other in confined spaces. Double-head versions (DMX models 226 and 227) offer a very cost-efficient way to save space or to dose two different chemicals. The extra capacity offered by double-head versions can also be used to gain higher flow rates for a single chemical.
Accessories ensure perfect operation of the entire system
A wide range of accessories specially designed for the DMX series help optimise performance: AR control electronics (contact signal control with multiplier and divisor function, 4-20 mA control or stroke frequency control via display and key pad, low-level/empty signal), integrated relief valve, dosing controller, diaphragm leakage detection, servomotor for automatic stroke length adjustment, PTC motors with Variable Frequency Drive (VFD). We also offer system components such as pressure loading valves and pulsation dampers.
Applications
Disinfection, coagulation, flocculation, precipitation, etc. in:
Drinking water treatment
Waste water treatment
Pulp and paper industry
Textile industry
Cleaning water treatment
Food & Beverage industry, dairies
Cooling tower water treatment
Low-pressure boiler feed water treatment