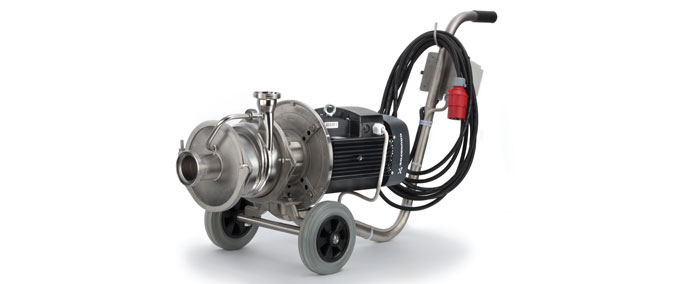 Grundfos' new range of GHP (Grundfos Hygienic self-Priming) pumps takes efficiency and durability to new levels in sanitary processes.
The pumps are based on the well-known HILGE technology and are further optimised to offer reliable operation even under the tough conditions encountered in cleaning processes.
The single-stage self-priming GHP pumps combine the best of the F&B-HYGIA end-suction pumps with the reliable HILGE technology. The result is an optimised pump range that comes with increased efficiency compared to traditional side-channel pumps and can be counted on for long operational life.
One pump – More applications
Due to the robust construction of the new GHP pumps they are able to handle liquids with a high content of air as is the case in CIP return systems.
In effect, this means that the same pump can be used for product conveyance as well as for the cleaning processes. Compared to side-channel pumps, GHP pumps are also less sensitive to handling products containing particles.
Low noise operation
The GHP pumps feature a new, unique hydraulic technology that allows the impeller to be adjusted to accommodate exact duty-point requirements.
This translates into a noise level significantly lower than compared to traditional side-channel pumps.
Specially designed for sanitary applications
The all-stainless steel GHP pumps have been specially designed for trouble-free operation in sanitary processes such as:
 Cleaning processes (CIP return)
  Evacuation of tanks and pipes
  Pumping liquids with a high gas content
  Pumping liquids in Food and Beverage industries.