Description
The Grundfos HS horizontal split case pump is a single-stage, non-self-priming, between bearing, centrifugal volute pump. The axially split design allows easy removal of the top casing and access to the pump components (bearings, wear rings, impeller, and shaft seal) without disturbing the motor or pipework.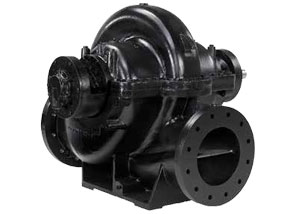 Features and benefits
Easy to service: split case design
Double suction minimises axial load,which extends the life of the wear
rings, shaft seals and bearings
Double volute reduces radial forces and minimises noise and vibration
Independent bearing housing design allows access to the pump
components without removing the top half of the casing
High energy efficiency
Low life-cycle costs
Many product variants available.
Applications
The pumps are suitable for:
Air-conditioning/heating systems
Public water supply
District cooling/heating plants
Cooling systems
Public waterworks
Process cooling
Irrigation.