Description
Grundfos NK/NKG pumps are used in water supply, industrial pressure boosting, industrial liquid transfer, HVAC (heating, ventilation and air-conditioning), irrigation and process industries.Grundfos end-suction pumps are multi-purpose pumps suitable for a variety of different applications requiring reliable and cost-efficient supply.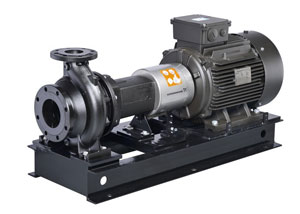 Features and benefits
Optimised hydraulics in housing and impeller = unimpeded liquid flow
O-ring seal between pump housing and cover = no risk of leakage
Housing, impeller and wear ring in different materials = improved corrosion resistance, no sticking elements
Back pull-out design for easy dismantling for service
Pump is electro-coated to increase corrosion resistance
Available with IE1, IE2 and IE3 motors
PN 10/16 and 25 bar
Temperatures up to 180 °C
Available in a number of shaft seal and material variants.
Applications
The pumps are suitable for:
District heating plants
Heating systems for blocks of flats
Air-conditioning systems
Cooling systems
Wash down systems
Other industrial systems.