Description
The Grundfos NB/NBG pumps are all non-self-priming, single-stage, centrifugal volute pumps with axial suction port, radial discharge port and horizontal shaft. The NB/NBG range consists of close-coupled pumps with their main dimensions in accordance with either EN733 or ISO2858.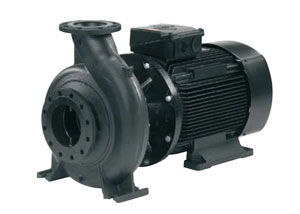 Features and benefits
Optimised hydraulics in housing and impeller = unimpeded liquid flow
O-ring seal between pump housing and cover = no risk of leakage
Housing, impeller and wear ring in different materials = improved corrosion resistance, no sticking elements
Pump is CED coated to increase corrosion resistance
Available with IE1, IE2 and IE3 motors
Available in a number of shaft seal and material variants
PN 10,16 and 25 bar
For temperatures up to 140 °C.
Applications
The pumps are suitable for:
District heating plants
Heating systems for blocks of flats
Air-conditioning systems
Cooling systems
Wash down systems
Other industrial systems.