Description
The MAGNA3/UPE pumps make up a broad range of small, medium and large circulator pumps – all fitted with communication equipment and state-of-the-art motors. These high performance pumps are perfect for high performance building systems, and fit both heating and cooling applications.With You can stop worrying about complicated pump settings. Simply install the pump and leave it.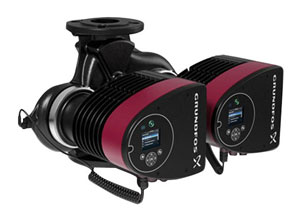 Features and benefits
AUTOADAPT
FLOWADAPT and FLOWLIMIT
Proportional-pressure control
Constant-pressure control
Constant-temperature control
Constant-curve duty
Max. or min. curve duty
Automatic Night Setback
No external motor protection required
Insulating shells supplied with single-head pumps for heating systems
Large temperature range where the liquid temperature and the ambient temperature are independent of each
Low energy consumption. All MAGNA3 pumps comply with the EuP 2015 requirements
The AUTOADAPT function ensures energy savings
Built-in differential-pressure and temperature sensor
Safe selection
Simple installation
No maintenance and long life
Extended user interface with TFT display
Control panel with self-explanatory push-buttonsmade of high-quality silicone
Work log history
Easy system optimization
Heat energy meter
Multi-pump function
External control and monitoring enabled via add-on modules
The complete range is available for a maximum system pressure of 16 bar (PN 16).
Applications
The pumps are suitable for:
The Grundfos MAGNA3 circulator pumps are designed for circulating liquids in the following systems:
Heating systems
Air-conditioning and cooling systems
Domestic hot-water systems.
The pump range can also be used in the following systems:
Ground source heat pump systems
Solar-heating systems.