Description
The Grundfos CR vertical, multistage, centrifugal in-line pump family works for water supply, water treatment and almost any industrial solution – including those for high-pressure, hot, dangerous, flammable and aggressive liquids.The basic CR pump range is available in four different materials: cast iron, two grades of stainless steel and titanium.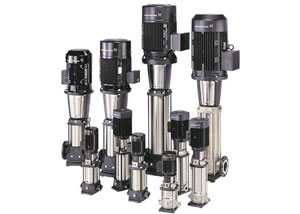 Features and benefits
Balanced shaft seal
Wear-resistant bearing material
Laser-welded impellers
Energy-optimised pumps (EU minimum efficiency index (MEI)
benchmark of MEI ≥ 0.70)
Premium efficiency IE3/IE4 motors
Easy service, minimimal downtime
High pressure
High temperature
Difficult liquids
Applications
The pumps are suitable for:
Standard: For pumping water-like liquids for distribution of light treatment, we offer our standard CR or the CRI water pump.
Industrial: We have added further modular solutions to cope with very high pressures, very high temperatures, very aggressive, very corrosive or very dangerous liquids. The industrial range includes the CR, CRI,
CRN and CRT lines.