Products Review & News
The Centrifugal Pump
In 1689 the physicist Denis Papin invented the centrifugal pump and today this kind of pump is the most used around the world. The centrifugal pump is built on a simple principle : liquid is led to the impeller hub and by means of the centrifugal force it is flung towards the periphery of the impellers.
The construction is fairly inexpensive, robust and simple and its high speed makes it possible to connect the pump directly to an asynchronous motor. The centrifugal pump provides a steady liquid flow, and it can easily be throttled without causing any damage to the pump.
If a pressure difference occurs in the system while the centrifugal pump is not running, liquid can still pass through it due to its open design.
The difference demands on the centrifugal pump's performance, especially with regard to head, flow, and installation, together with the demands for economical operation, are only a few of the reasons why so many types of pump exist.
Overview for Grundfos pumps – Dosing pumps
Grundfos DME Digital Dosing pumps combine perfect precision with user-friendliness, covering large dosing quantities in the range from 60 l/h to 940 l/h with few variants.
Digital Dosing Pumps

The use of stepper motor/EC drives optimizes control of the stroke speed and makes it extremely accurate. The duration of each pressure stroke varies according to the flow setting. The suction stroke time always remains constant but can be lengthened using the anti-cavitation function and thus adapted to the relevant needs. This way suction always takes place with the full stroke volume. This results in continuous dosing and lower pulsation in the dosing system – important factors in ensuring smooth pumping of outgassing media and in installations requiring longer suction lines.
The DME pumps range has all the benefits of the highly acclaimed smaller Digital Dosing range, making accurate dosing easier than ever.
Precise Pumps and easy setting Pumps

The operator can easily install and set the pumps to discharge exactly the quantity of dosing liquid required in the application. In the display, the setting of the pumps is read out directly in ml/h or l/h, pulse or batch. The operation mode is easily identified by means of icons.
Pumps Turndown ratio 1:800
With a turndown ratio ten times better than that of traditional equipment, the DME Digital Dosing pumps offer maximum flexibility and accuracy.
Turndown of the suction stroke to 75 %, 50 % or 25 % of the maximum speed ensures optimal priming pumps and displacement of even the most difficult liquids.
Unique technology Pumps

A unique drive technology and microprocessor control make sure that liquids are dosed precisely and with low pulsation, even when the pumps is operating with high viscosity or degassing liquids. Instead of the conventional stroke length adjustment, the capacity of the DME is regulated by automatic adjustment of the motor speed during the discharge stroke, and by fixed suction stroke speed. This guarantees optimal and uniform mixing.
Fieldbus Pumps communication
Available with Profibus interface to supply performance data and status information for quality control, preventive maintenance and future reference.
Pumps Overload protection
Built-in overload protection monitors the counter-pressure of the pumps and protects it against too high pressure loads.
Switch-mode pumps power supply
The switch-mode power supply makes sure that Grundfos DME Digital Dosing pumps can be used worldwide within the 100-240 VAC – 50/60 Hz range.
Several material variant Pumps
The dosing heads of DME pumps are available in stainless steel, PVDF, and environmentally friendly, cost-efficient polypropylene.
Pumps Processes:
Dosing pumps of biocides and chemicals, belt lubricant for conveyor equipment diverse range of acids, lyes, flocculation and coagulation agents, cationic and anionic polymers with very different viscosities, precipitating agents and disinfectants, CIP applications
Applications Pumps

Pulp and paper industry
Textile industry
Food and beverage industry
Industrial process water and waste water treatment
Drinking water treatment
Features and Benfits Pumps

Digital Dosing Pumps
Ratio 1:800
High precision – unique technology
Dosing of high viscosity media
Robustness and reliability
Overview
DWK and DPK are grundfos submersible pumps designed for dewatering and drainage applications. The cast-iron construction and the hydraulic design contribute durability and high efficiency. The differences between the DWK and DPK Grundfos Submersible pump ranges lie in the discharge arrangement and the installation type. The DWK is designed with a top discharge pipe and suction strainer, and is thus more suitable for temporary installation, whereas the DPK has a side discharge and a ring-stand or auto coupling (as accessories), and is suitable for permanent installations.
Applications
DWK/DPK are excellent Grundfos Submersible pumps for dewatering and draining applications. The combination of compact design with high-pressure capability makes the pumps suitable for use in pits, whether for temporary or fixed installation. The installation design options provide the flexibility needed to cover many needs.
Grundfos Submersible Applications include:
Construction sites
Excavations
Tunnels
Fish ponds
Drainage pits.
Features and benefits
Durability
High efficiency
Installation flexibility
High-pressure capabilities, cost-effectiveness.
The basic pumps CR pumps range, which can be applied in almost any industrial solution, is already in itself the broadest range available. Through our modular approach, we have made it even broader.
The basic CR pumps range is available in four different materials: cast iron, two grades of stainless steel, and all-titanium. There are eleven flow sizes pumps, capable of producing up to almost 50 bar of pressure, and with a variety of shaft seals, rubber materials and supply voltages.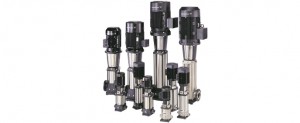 Pumps parts which are typically vulnerable to difficult liquids or particularly demanding operating conditions can be optimised for their purpose and designed for specific requirements.
Applications Pumps
CR pumps provide a complete range of pumps solutions so that all applications, industrial and domestic, can benefit from the Grundfos pumps touch. The applications that can be covered include the following:
Process water systems
Washing and cleaning systems
Seawater systems
Pumping of acids and alkalis
Ultrafiltration systems
Reverse osmosis systems
Swimming baths.
Features and benefits pumps
Reliability
High efficiency
Service-friendly
Space-saving
Suitable for slightly aggressive liquids
High corrosion resistance
Single-pump solution making high pressures possible.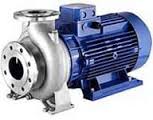 End Suction Volute Pump.
Features:
 Easy Confirm to JIS Standard JIS B8313 with 2 pole and 4 pole choice.
BPO (Back Pull Out) Type can be dissembled and inspected without removing the suction and discharge piping.
Top centerline discharge, foot support under casing for maximum resistance to misalignment and distortion from pipe loads.
Application:
General Water supply
Hot and cold water circulation
Irrigation
Industrial Water
Grundfos end-suction pumps are used in water supply, industrial pressure boosting, industrial liquid transfer, HVAC (heating, ventilation and air-conditioning), and irrigation.
Grundfos end-suction pumps are multi-purpose pumps suitable for a variety of different applications requiring reliable and cost-efficient supply. End-suction pumps are used in five main areas of application: water supply, industrial pressure boosting, industrial liquid transfer, HVAC and irrigation by Grundfos end-suction pumps
The Grundfos NB/NBG pumps are all non-self-priming, single-stage, centrifugal volute pumps with axial suction port, radial discharge port and horizontal shaft. The NB/NBG range consists of close-coupled pumps with their main dimensions in accordance with either EN733 or ISO2858.
Applications for Grundfos end-suction pumps
Grundfos offers a virtually limitless range of close coupled (NB) end-suction pumps. Their sturdiness and reliability make them ideal for use in demanding environments such as the following:
District heating plants
Heating systems for blocks of flats
Air-conditioning systems
Cooling systems
Wash down systems
Other industrial systems.
Features and benefits Grundfos end-suction pumps
Optimised hydraulics in housing and impeller = unimpeded liquid flow
O-ring seal between pump housing and cover = no risk of leakage
pumps Housing, impeller and wear ring in different materials = improved corrosion resistance, no sticking elements
Pump is CED coated to increase corrosion resistance
Available with IE1, IE2 and IE3 motors
Available in a number of shaft seal and material variants
PN 10,16 and 25 bar
For temperatures up to 140 °C.
Overview fire systems by Grundfos pump
NBF is an end-suction pump made for fire sprinkler pump applications. NBF is a close-coupled type and NKF is a long-coupled type.
The NKF fire system is an NBF or NKF end-suction pump integrated with a coupling and a driver, which may be an electric motor or a diesel engine, assembled on a base frame.
Electric pump types can be ordered as a COMPACT model (inclusive of a controller integrated onto the baseframe).
Diesel-driven NKF. A controller always forms a part of the system.
Materials Pump
The pump materials are in compliance with EN 12845 and prEN12259-12:
Impeller and wear rings are made of bronze
Wet parts such as shaft, washers and nuts are made of stainless steel
Castings are made of cast iron.
Controller Pump
Grundfos offers a complete, factory-assembled controller in a steel plate cabinet, suitable for wall mounting or to install free-standing. The controller pump complies with the EN 12845 standard. The controller for diesel-powered pump is always mounted on the base frame.
Electric motor
The electric motor is an MG or MMG motor complying with local standards for electric motors. As from 16 July 2011, the motors used in Europe will be IE2 = EFF 1 motors.
Diesel engine
The diesel engine can operate continuously at full load at site elevation with rated output in accordance with ISO 3046-1:1986. The pump reaches full operational speed within 15 seconds; the engine is capable of starting at a room temperature of 5 °C.
Each complete engine pump unit is tested on the manufacturer's test bed for at least 1.5 hours at rated flow rate, and the result recorded on the test certificate.
Applications Pump
The Grundfos fire pump units are typically used in fire-fighting applications for supplying water to fire-hose reels, fire hydrants or sprinkler systems.
Features and benefits Pump
Pump are made according to EN12845 and PrEN12259-12
Electric or diesel powered
Designed pump for superior functionality and performance reliability
Simple installation and easy maintenance
Compact design Pump
Customised and reliable solutions
Widest range from one supplier.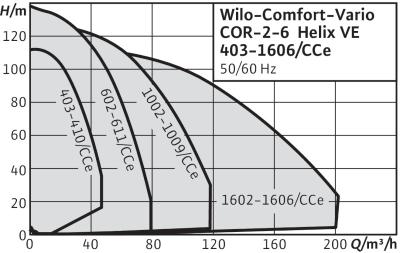 Design
Highly efficient water-supply unit ready for connection (non self-priming). With 2 to 6 vertically arranged Helix VE series stainless steel high-pressure centrifugal pumps in glanded version switched in parallel; every pump is equipped with an integrated air-cooled frequency converter, including Comfort Controller CCe
Application
Fully automatic water supply and pressure boosting in residential, commercial and public buildings, hotels, hospitals, department stores and for industrial systems.
Pumping of drinking water, process water, cooling water, fire water (apart from fire-extinguishing systems in accordance with DIN14462) or other water mixtures that do not attack the materials used chemically or mechanically and do not contain abrasive or long-fibre constituents
Type key
| | |
| --- | --- |
| Example: | Wilo-COR-4 Helix VE 1603/K/VR |
| COR | Compact pressure boosting system with integrated speed control of each pump |
| 4 | Number of pumps |
| Helix VE | Pump series |
| 16 | Rated volume flow [m3/h] of the single pump |
| 03 | Number of single pump stages |
| K | With cartridge mechanical seal |
| 5.5 | Rated motor power P2 in kW [only included if more than one motor is available for types with the same hydraulic output] |
| CCe | Control device; CCe = Comfort Controller for pumps with integrated frequency converter |
Special features/product advantages
Sturdy system with Helix VE stainless steel high-pressure circulation pumps with integrated frequency converter that can be controlled from 25 Hz to 60 Hz
High-efficiency pump hydraulics
Entire system is pressure-loss optimised
Integrated dry-running detection with automatic deactivation via the motor control electronics
Maximum degree of control using the CCe control device with additional functions, micro-computer control and touch display
Technical data
Mains connection 3~400 V ± 10%, 50 Hz; 3~380/440 V ±10 %, 60 Hz
Max. fluid temperature +50 °C (+70 °C optional)
Ambient temperature max. 40 °C
Operating pressure 16 bar (25 bar optional)
Inlet pressure 10 bar
Nominal connection diameters on discharge side R 1½ ‐ DN 125
Nominal connection diameters on inlet side R 1½" – DN 125
Speed range 1500-3770 rpm
Protection class: IP 54
Fuse protection on mains side A, AC 3 according to motor power and EVU regulations
Approved fluids (other fluids on request):

Drinking water and domestic hot water
Cooling water
Fire water

Note on fluids: Approved fluids are generally waters which do not attack the materials used, neither chemically nor mechanically, and do not contain any abrasive or long-fibre constituents. System in accordance with DIN 1988 (EN 806)
Equipment/function
2-6 pumps per system of the Helix VE 4 to Helix VE 16 series, with IE2-equivalent standard motors and variable auto control with integrated frequency converter for each pump
Automatic pump control via Comfort Controller CCe
Parts that come in contact with the fluid are corrosion-resistant
Base frame made of galvanised steel, with height-adjustable vibration absorbers for insulation against structure-borne noise
Check valve on the suction and pressure sides of each pump
Non-return valve on the pressure side of each pump
Diaphragm pressure vessel 8 l, PN16, pressure side
Pressure sensor, pressure side
Pressure gauge, pressure side
Optional low-water cut-out switchgear with pressure gauge, suction side
Description/design
Base frame: galvanised steel, with height-adjustable vibration absorbers for comprehensive insulation against structure-borne noise; other versions on request
Pipework: complete pipework made of stainless steel, suitable for the connection of all piping materials used; the pipework is dimensioned according to the overall hydraulic performance of the pressure boosting system
Pumps: 2 to 6 pumps of the Helix VE 4.., 6.., 10.., 16.. series are used, which are connected in parallel. The air-cooled frequency converters mounted on the pump motor enable infinitely variable control between 25 Hz and a maximum of 60 Hz for all pumps of this series. All parts which come in contact with fluid are made of stainless steel for the Helix VE 4.., 6.., 10.., 16..; other versions on request. KTW/WRAS/ACS approval for all parts that come in contact with the fluid
Valves: With the Helix VE 4.., 6.., 10.., 16.. series, every pump is fitted on the suction and pressure side with a check valve with DVGW approval mark and on the pressure side with a non-return valve with DVGW/KTW approval
Diaphragm pressure vessel: 8 l/PN16 to be arranged on the discharge side. With a diaphragm made of butyl rubber, with DVGW/KTW approval, completely safe in accordance with food safety laws for testing and inspection purposes, with drain and throughflow valve with DVGW/KTW approval in accordance with DIN 4807.
Pressure sensor: 4 to 20 mA, located on the discharge side for controlling the central Comfort Controller CCe
Pressure indication: pressure gauge (ø 63 mm) arranged on the discharge side; additional digital indication of the discharge pressure on the alphanumeric touchscreen on the Comfort Controller
Switchgear/controller: The system is equipped with a Comfort Controller CCe as standard
Materials
For the series with Helix VE 4 to VE 16:
Impellers, diffusers, stage housing made of stainless steel 1.4307
Pump housing made of stainless steel 1.4301
Shaft made of stainless steel 1.4057
1.4404 shaft protection sleeve
O-ring gaskets made of EPDM (FKM gasket on request)
Pipework made of stainless steel 1.4571
Scope of delivery
Factory-mounted, connection-ready pressure boosting system checked for functionality and impermeability
Packaging
Installation and operating instructions
Transport eyes for self-assembly
Planning guide
Inlet pressure
The maximum inlet pressure (see Technical data) must be taken into account when configuring the system. The maximum permissible inlet pressure is calculated from the maximum operating pressure of the system minus the maximum pump delivery head at Q = 0
Pressure reducer
Fluctuating inlet pressure is compensated by the speed control integrated into each single pump as long as the pressure fluctuation is not greater than the difference between the setpoint pressure value and the zero-delivery head of the single pump at minimum speed. If the pressure fluctuation is greater, a pressure reducing valve must be installed upstream of the system.
Volume flow
Up to 155 m3/h (43 l/s) system configuration in accordance with DIN 1988 (EN 806); with standby pump up to 185 mm3/h (51 l/s) during operation of the standby pump as an auxiliary peak-load unit
Residual-current-operated protection
switch
When installing residual-current-operated protection switches in conjunction with frequency converters, bear in mind that only universal-current-sensitive residual-current-operated protection switches in accordance with DIN/VDE 0664 are to be fitted.
Wilo-WMS low-water cut-out switchgear
The series Helix VE pump being used is already equipped with an integrated dry-running detection as safety equipment for the pump. Nevertheless, the installation of a low-water cut-out switchgear is required in cases where the pressure boosting systems are connected directly to a public mains power supply; that prevents the inlet pressure in the mains supply line from falling below 1.0 bar. Please order directly when ordering the pressure boosting system. The WMS will then be installed in the pressure boosting system, electrically wired and fully tested by Wilo during the final functional test.
Standards/directives
The overall system conforms with the requirements of
DIN 1988 Part 5
DIN 1988 Part 6* (**)
* The specifications in DIN 1988 (EN 806) and of the water-supply companies are to be observed. Regarding the electrical components, the system conforms with the requirements of
VDE 0100 Part 430/Part 540
VDE 0110 Part 1/Part 2
VDE 0660 Part 101/Part 107 and
DIN 40719/IEC 754
Always observe the specifications in DIN 1988 (EN 806) when using and operating the pressure boosting system.(**) That does not apply to fire extinguishing systems in accordance with DIN 14462. Please request these separately.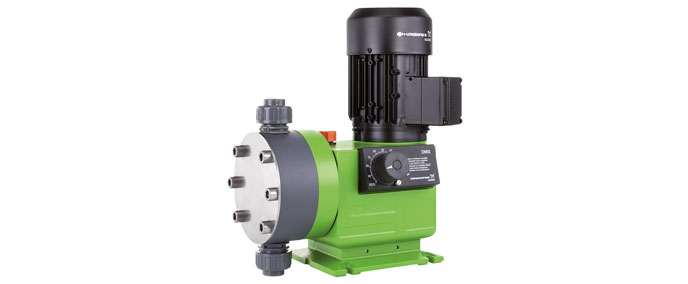 General
The Grundfos DMX range has proven its worth in dosing applications worldwide. With their robust diaphragm-based design and their high-quality motors DMX pumps require minimum maintenance and are best choice for many dosing applications. The DMX range is highly versatile: it covers a wide flow range and offers a variety of dosing head sizes, materials and accessories.
Accurate dosing – all the time
The diaphragm design ensures that the dosing flow variation is below ± 1.5 % and the linearity deviation is kept below 4 % at all times. This allows very precise dosing of your chemicals – as much as necessary, as little as possible.
Smooth and low-pulsation dosing
The DMX series combines sophisticated drive technolo­gy and gear kinematics to ensure smooth and low-pulsation dosing without pressure peaks. This means less stress to all system components, such as tubes and valves, and leads to longer
intervals for the entire system.
Motors to match application needs
For applications with specific motor requirements, the versatile DMX range offers high-quality motors for 50 Hz, 60 Hz, 100 Hz (with Variable Frequency Drive VFD), as well as EX classified or ATEX-certified motors, if required.
Perfect material selection – for housing and liquid-wetted parts
The smaller DMX models have plastic housings offering chemical resistance and all the protec­tion necessary for many applications. The larger models have a robust cast-aluminium housing with epoxy coating to meet all application needs. Investment costs and running costs for spare parts are kept low over the years: A wide choice of materials for dosing head, valves and accessories allow selecting exactly the degree of chemical resistance required. All liquid-wetted parts need to be resistant to the chemicals used. The diaphragm is made of NBR and PTFE-coated.
Compact design – saves money and space
DMX pumps are available in 12 different dosing head sizes. Careful design work has kept them all very compact. This saves material costs and allows placing several pumps right next to each other in confined spaces. Double-head versions (DMX models 226 and 227) offer a very cost-efficient way to save space or to dose two different chemicals. The extra capacity offered by double-head versions can also be used to gain higher flow rates for a single chemical.
Accessories ensure perfect operation of the entire system
A wide range of accessories specially designed for the DMX series help optimise performance: AR control electronics (contact signal control with multiplier and divisor function, 4-20 mA control or stroke frequency control via display and key pad, low-level/empty signal), integrated relief valve, dosing controller, diaphragm leakage detection, servomotor for automatic stroke length adjustment, PTC motors with Variable Frequency Drive (VFD). We also offer system components such as pressure loading valves and pulsation dampers.
Applications
Disinfection, coagulation, flocculation, precipitation, etc. in:
Drinking water treatment
Waste water treatment
Pulp and paper industry
Textile industry
Cleaning water treatment
Food & Beverage industry, dairies
Cooling tower water treatment
Low-pressure boiler feed water treatment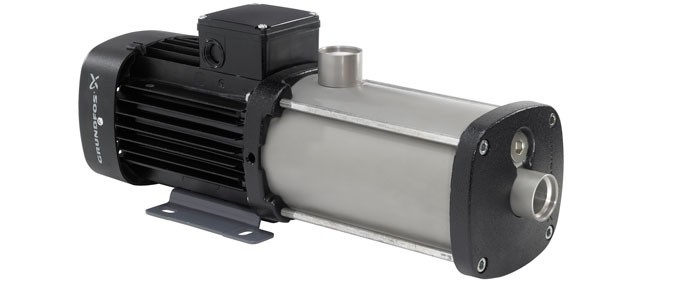 The Grundfos Pumps horizontal multistage pump CM (=Centrifugal Modular) has been created with compactness and modularity as two of its central features, making numerous configurations possible. The pump is basically composed of a series of interchangeable modules, all of which have been designed to work together seamlessly, no matter what the application.
The pumps are of the close-coupled type.
The difference between the CM and the CME pump ranges is the motor. CM pumps are fitted with mains-operated motors, whereas the motors for CME pumps have an integrated frequency converter.
Both CM and CME Grundfos Pumps have mechanical shaft seals.
The CM and CME Grundfos Pumps are available in cast iron or stainless steel (AISI 304/DIN 1.4301 stainless steel, which is for water and non-corrosive liquids, and AISI 316/DIN 1.4401 stainless steel, which offers a high degree of corrosion protection against aggressive liquids).
Applications of Grundfos Pumps
The CM or CME Grundfos Pumps is a multi purpose pump for both industry and water boosting in general.
It is compact, noiseless, reliable and flexible, and this make it an optimal solution for installation and interaction with other components in small and large systems or as a stand-alone pump.
Features and benefit Of Grundfos Pumps

Compact design
Modular construction/customised solutions
Worldwide usage
High reliability
Service-friendly
Wide performance range
Low noise level
High-performance hydraulics
Electro-coated cast-iron parts
Customised solutions
Grundfos motor
E-solutions
High efficiency.